Matthew C. Nisbet Ph.D.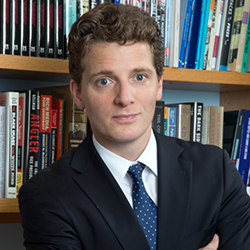 Associate Professor
Communication Studies
Northeastern University
Email: m.nisbet@neu.edu Discipline: Communications Expertise: Politics and Policymaking, Bioethics, Interest Groups, Science Policy, Health Communication, Public Opinion
Investigator Award
Mobilizing Citizen Support for Climate Stabilization and Adaptation Policies
Award Year: 2008
Climate change poses a potentially significant threat to the public's health, and addressing it is among President Obama's top priorities. Co-PIs Edward W. Maibach, Ph.D., M.P.H. and Matthew C. Nisbet, Ph.D. believe that citizens and stakeholders need to play an active role in formulating effective public policies and investments in greenhouse gas reduction. Their project, Mobilizing Citizen Support for Climate Stabilization and Adaptation Policies, investigates how best to engage Americans on climate control issues and analyzes the extent to which a health perspective can enlist community interest and participation. Through surveys and interviews, Drs. Maibach and Nisbet explore people's beliefs and motivations and test their reactions to various policy proposals and messages about climate change and its health implications. Their research findings could help galvanize the public health community and provide policy experts, government agencies, journalists, and other stakeholders with practical guidance on how best to increase public understanding of the implications of climate change.
Background
Matthew Nisbet is a social scientist who studies, writes, lectures, and consults on strategic communication in policy-making and public affairs. His current work focuses on controversies surrounding science, the environment, and public health. Nisbet is the author of more than 35 journal articles and book chapters, and he serves on the editorial boards of the International Journal of Press/Politics and Science Communication. His scholarship has been cited more than 400 times in the peer-reviewed literature and in more than 100 books. He has worked as a consultant to the National Academies, the Corporation for Public Broadcasting, the Centers for Disease Control, the National Science Foundation, the Howard Hughes Medical Institute, and other leading organizations. Nisbet is a frequently invited speaker at universities and meetings across North America and Europe and he has lectured on more than two dozen college campuses.