David Hemenway Ph.D.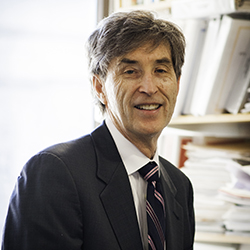 Professor of Health Policy
Director, Harvard Injury Control Research Center and Harvard Youth Violence Prevention Center
Harvard School of Public Health
Email: hemenway@hsph.harvard.edu Discipline: Economics Expertise: Health Risks, Public Health Strategies, Violence
Investigator Award
Firearms and Public Health
Award Year: 1997
Firearms are the second leading cause of injury-related death in the U.S. While attention to the problem has increased, the amount of research on the topic lags behind. This project provides new information about gun carrying, storage, brandishing, injuries, the use of guns in self-defense, and the connection between guns and suicide. It also synthesizes new public health literature relevant to firearms policy and analyzes private firearm surveys from college students and adults. Adopting a general public health framework, Dr. Hemenway develops beneficial and feasible firearm policy recommendations, seeking to alter the current social norm which accepts high levels of lethal violence as a part of American life. Findings will provide public health-oriented policy options for gun safety, firearm product oversight, collecting gun injury information, and the roles of the medical community and general public in firearm safety.
Background
David Hemenway is a professor of health policy at the Harvard School of Public Health and the director of the Harvard Injury Control Research Center and the Harvard Youth Violence Prevention Center. For more than two decades, Hemenway has been a powerful voice in public health policy and the field of injury prevention, as both a prominent public speaker and as the author of numerous books and research articles. His work has appeared in the NewEngland Journal of Medicine; Journal of Policy Analysis and Management; Policy Studies Journal; American Journal of Public Health; Accident Analysis and Prevention; American Journal of Epidemiology; Journal of Studies on Alcohol; Journal of Public Health Policy; and Law and Policy. Beyond the published word, Hemenway's skills as a premier educator and instructor have earned him numerous honors, including the award as the top teacher at the Harvard School of Public Health. Hemenway's push to transform U.S. firearms policy debate springs from a professional life spent exploring injury prevention. Hemenway worked early in his career with consumer safety pioneer Ralph Nader and Consumers Union. As a prize-winning economist and a respected authority in the field of injury prevention, he has influenced prevention strategies in fields ranging from automobiles and cigarettes to pollution control and alcohol. A short survey of firearms injury research left Hemenway shocked by the lack of quantitative information in the field and intrigued by the challenge of filling the research vacuum. Hemenway's works on firearm policy include the book Guns and the Constitution, and his most recent book Private Guns Public Health.