Rosalie A. Kane D.S.W.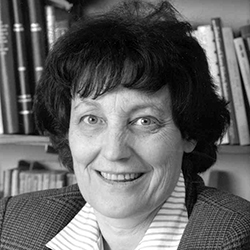 University of Minnesota Director of the National Long-Term Care Resource Center
Professor of Health Policy and Management
University of Minnesota School of Public Health
Email: kanex002@umn.edu Discipline: Social Work Expertise: Long-Term Care, Organization of Care
Investigator Award
Transforming Long-Term Care Toward Consumer Goals: Shifting the Policy Debate and Stimulating Change
Award Year: 1998
Dr. Kane's work is built on the premise that long-term care (LTC) for older people is deeply flawed and that policies and programs in the U.S. have largely failed to meet patients' needs without stifling their spirits. This project develops and disseminates a vision for significant change in the nature of LTC for older people and designs, tests, and shares a strategy to facilitate that change. Among the problems examined are: the disproportionate public investment in nursing homes, regulatory and structural barriers that limit options for patients with substantial care needs; dysfunctional splits between medical programs and social programs for the elderly; the over-emphasis among policymakers, providers, and some advocates on safety and protection; and aversion to risk. Based on information obtained from literature and program reviews, extensive interviews with major constituencies, site visits, and case studies, Dr. Kane will devise new policy options that may require a major shift in public, professional, and policymaker perceptions and attitudes.
Background
Rosalie A. Kane is a professor of health policy and management at the University of Minnesota where she is also a faculty member of the Center for Biomedical Ethics, School of Social Work, and the Center on Aging. Previously she was a social scientist at The Rand Corporation in Santa Monica, California and a faculty member at the University of California at Los Angeles, and before that, at the University of Utah. Dr. Kane's research is devoted to aspects of long-term care services, organization, policies and financing. It ranges across all settings, including nursing homes, assisted living, and home care, and also concerns topics such as home care, case management, assessment, quality assurance, and regulation, value conflicts in long-term care, ethical dilemmas arising in long-term care, and the tensions between safety and protection versus freedom for those using long-term care services. She serves on many national task forces and committees, is a prolific author of journal articles, books, and reports, and is past editor-in-chief of both The Gerontologist and Health and Social Work. She directs a national study on Measurement, Indicators, and Improvement of Quality of Life in Nursing Homes and a national study on service patterns in assisted living. Dr. Kane was selected as the recipient of the University of Minnesota Distinguished Women Scholars Award in Social Sciences, Arts and Humanities for 2007.