Nelda P. Wray M.D., M.P.H.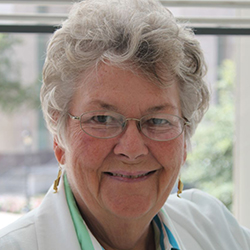 Research Scientist, Department of Surgery
Senior Member, TMH Research Institute
Methodist Hospital Research Institute
Email: nwray@tmhs.org Discipline: Medicine, Health Services Research
Investigator Award
Improving the Evidence Base for Invasive Therapeutic Procedures
Award Year: 2007
Despite the American fascination with high-tech medicine, new treatments don't always deliver desired cures or improvements. While pharmaceutical products must be rigorously tested and approved by the U.S. Food and Drug Administration before going to market, any surgeon or interventionist can provide a new therapeutic procedure without valid scientific proof of its effectiveness. This can pose real problems for people seeking to make health care decisions - whether it's a physician considering how to treat a medical problem, a health plan deciding whether to cover a procedure, or a patient considering surgery. Oftentimes, the evidence needed to make those decisions simply doesn't exist. Carol M. Ashton, M.D., M.P.H., and Nelda P. Wray, M.D., M.P.H. explore how studies that generate evidence of what works bestby comparing alternatives can be applied to surgical and other therapeutic procedures. They examine how payment incentives might be used to encourage physicians and patients to help generate the data needed to quantify the risks and benefits of procedures and to create the evidence upon which more informed treatment decisions can be made. Their project, Improving the Evidence Base for Invasive Therapeutic Procedures, should help inform the design of payment policies to promote the use of procedures with scientifically proven benefits and reduce the use of those for which safer, more effective, and less expensive alternatives exist.
Background
Nelda P. Wray, M.D., M.P.H., joined the department of surgery and The Methodist Hospital Research Institute in Houston, TX in July 2008, after two years as professor of medicine at the University of Alabama School of Medicine in Birmingham. Before that, she was professor of medicine and medical ethics at Baylor College of Medicine in Houston. She was the founding director of the Houston Center for Quality of Care and Utilization Studies, a Veterans Affairs Health Services Research and Development Center of Excellence. She is the past chief of the Section of Health Services Research at Baylor College of Medicine and the past Chief Research and Development Officer for the Veterans Health Administration in Washington D.C. Dr. Wray has led or participated in many federally funded studies and has published over 100 articles in the peer-reviewed journals. In addition to her academic roles, Dr. Wray has been asked to fill important policy roles. In 1994, Dr. Wray served as a Robert Wood Johnson Foundation Health Policy Fellow to Senate Majority Leader Robert Dole. In 1995, Governor George W. Bush appointed Dr. Wray as chair of the newly formed Texas Health Care Information Council, and in 1999 she was appointed by Governor George W. Bush to a three-year term on the Texas Board of Aging. At the end of that term she was appointed by Governor Rick Perry to serve an additional three years. In 1997, Dr. Wray was appointed by Donna E. Shalala, U.S. Secretary of Health and Human Services, to a three-year term as a member of the National Advisory Council for the Agency for Healthcare Research and Quality. In 1999 she was appointed to the National Advisory Group to the VA Health Services Research and Development Service. Sitting on these two committees, Dr. Wray advised on the development of the research portfolios of the two largest federal funding agencies for heath services research. Between 1999 and 2003, Dr. Wray served on the National Advisory Committee of the Robert Wood Johnson Foundation Clinical Scholars Program. Dr. Wray is nationally and internationally renowned for her expertise in the use of electronic data to monitor and improve health care. She currently is working on efforts to improve the evidence base for surgical procedures by exploring ways to integrate the collection of valid data on patient outcomes into everyday clinical practice. She was the principal investigator and senior author of the landmark study entitled "A Randomized, Placebo-Controlled Trial of Arthroscopic Surgery of the Knee" published in the July 11, 2002 issue of The New England Journal of Medicine. Her interview on National Public Radio on this study was judged as one of their three most important interviews of that year. She is now acting in an advisory role to investigators in the United Kingdom, where the NHS is planning to replicate this clinical trial. Dr. Wray has received numerous awards for her research. In 2000 she became only the second individual to receive the Department of Veterans Affairs Under Secretary for Health's Award for Outstanding Achievement in Health Services Research. This award recognizes an individual's lifetime achievements in research and mentoring and their national and international reputation in health services research. In 2002 she received the Michael E. DeBakey Award for Excellence in Research from Baylor College of Medicine, the College's highest award for achievement in research.