Naa Oyo A. Kwate Ph.D.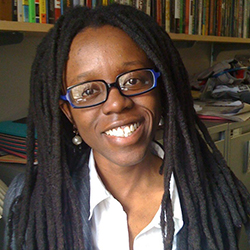 Associate Professor
Department of Human Ecology
Rutgers, The State University of New Jersey
Email: nokwate@rci.rutgers.edu Discipline: Psychology, Public Health Expertise: Neighborhood Health, African American Psychology
Investigator Award
On the Content of our Character: The Myth of Meritocracy and African American Health
Award Year: 2008
Many people believe that, with the right mix of talent, ability, hard work, and opportunity, anyone can achieve the wealth and success that the American Dream has come to represent. Yet the rise to the top in America is limited, especially for those who live in segregated neighborhoods and those who have few educational and economic opportunities. Co-PIs Naa Oyo A. Kwate, Ph.D. and Ilan H. Meyer, Ph.D. propose that, for African Americans, living in a culture that so highly values self-determination can lead to demoralization, unhealthy coping strategies, and higher rates of illness and early death. In their project, On the Content of Our Character: The Myth of Meritocracy and African American Health, Drs. Kwate and Meyer look at how widely ingrained such beliefs are across the United States. They also consider how meritocratic beliefs may be linked to political views about the role of government and the plight of the disadvantaged, and to disparities in health and well being. This project will shed light on the hidden consequences of meritocratic beliefs.
Background
Naa Oyo A. Kwate is an associate professor in the department of human ecology at Rutgers University School of Environmental and Biological Sciences. Previously she was an assistant professor in the department of sociomedical sciences at Columbia University's Mailman School of Public Health. She holds a Ph.D. in clinical psychology from St. John's University and a B.A. in psychology from Carleton College. Prior to her appointment at Columbia she was a post-doctoral fellow in cancer prevention and control at the Mt. Sinai School of Medicine. Dr. Kwate is a recipient of a National Institutes of Health 2009 New Innovator Award. Her research centers on determinants of African American health, with particular attention to individual level experiences of identity and inequality, and the intersection of these variables with more distal structural factors. She has conducted research on racial identity, the effects of racism on health, and neighborhood context in African American communities. Some recent studies include an investigation of perceived racism and the presence of outdoor alcohol ads and liquor stores as determinants of alcohol consumption among Black women (funded by the Department of Defense, Breast Cancer Research Program); a study of the spatial relationship between fast food and schools and how that varies by neighborhood and school racial and socioeconomic characteristics (funded by the Robert Wood Johnson Foundation, Healthy Eating Research Program and New Connections); and an investigation of racial segregation and African American health status in New York City.