Lucian L. Leape M.D.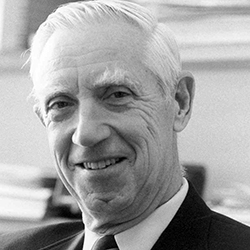 Adjunct Professor
Department of Health Policy and Management
Harvard School of Public Health
Email: leape@hsph.harvard.edu Discipline: Medicine Expertise: Health Risks, Organization of Care, Patient Safety
Investigator Award
Toward Error-Free Medicine: New Policies for Health Care
Award Year: 1998
Accidental injury due to errors in medical treatment is the most serious quality problem in health care delivery in the U.S. Errors cause 1 million injuries and 120,000 deaths annually, and the health care system's reliance on punishing individuals to ensure safety rather than designing safer systems has played a central role. This project develops a series of conceptual essays to alter how hospitals, doctors, regulators and society think about health care delivery. Dr. Leape engages a broad audience of policymakers, legislators, bureaucrats, regulators, health system designers, lawyers, judges, researchers, providers, patients, and the media. He aims to inform and provoke the kind of debate that can lead to sweeping policy changes at all levels of government and throughout the health care system. Topics include: why punishment doesn't work; designing error-free systems; the role of regulation; admitting mistakes to patients; accountability; and mandatory reporting.
Background
Lucian L. Leape is an adjunct professor at the Harvard School of Public Health and a health policy analyst whose research has focused on error prevention and appropriateness of care. Prior to joining Harvard, he was professorof surgery at Tufts University School of Medicine and chief of pediatric surgery at the New England Medical Center. He has been a leading advocate of a non-punitive, systems-based approach to preventing medical errors and has led several studies of adverse drug events and their underlying systems failures. In addition, he has directed research into overuse and underuse of cardiovascular procedures. Dr. Leape is a member of the Board of Directors of the National Patient Safety Foundation and the Institute of Medicine Quality of Care in America Committee that produced the report To Err is Human. He has also served on the Agency for Healthcare Research and Quality Health Services Research Review Committee and the Physician Payment Review Commission Access Advisory Committee. Recent honors include the Distinguished Service Award of the American Pediatric Surgical Association, the Donabedian Award from the American Public Health Association, and honorary fellowship in the Royal College of Physicians and Surgeons of Canada. He has been honored with leadership awards from the American Society of Healthsystems Pharmacists, the American Pharmaceutical Association, and the Institute for Safe Medication Practices. In 2003 he received the duPont Award for Excellence in Children's Health Care. In 2004, he received the John Eisenberg Patient Safety Award and Modern Healthcare named him as one of the 100 most powerful people in health care. Dr. Leape is a graduate of Cornell University and Harvard Medical School. He is the author of more than 200 medical articles, book chapters, and monographs.