Lisa I. Iezzoni M.D., M.Sc.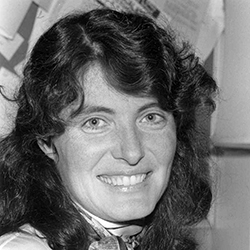 Director
Mongan Institute for Health Policy
Massachusetts General Hospital
Email: liezzoni@partners.org Discipline: Medicine, Health Services Research Expertise: Health Outcomes, Health Risks, Health Services Research, Mobility Impairment, Public Health Strategies
Investigator Award
When Walking Fails
Award Year: 1996
When walking fails, people lose easy movement essential to daily life as well as a fundamental sense of value. Available evidence suggests that about one-quarter of Americans age 55 and older have trouble walking, and almost 10 percent are unable to walk even a few blocks due to such chronic conditions as heart disease, osteoporosis, diabetes, and arthritis. The American health care system does little to identify or address the problem, although feasible ways exist to aid mobility and improve lives. Dr. Iezzoni's research focuses on three areas: 1) the epidemiology of walking impairments among adult Americans due to chronic illness; 2) the views of persons whose walking has failed, primarily concerning perceived barriers to mobility assistance and experiences with the health care system; and 3) the attitudes of health professionals and payers concerning services to assist mobility for chronically ill persons. Her results describe barriers experienced by those with walking impairments and policy options for overcoming them.
Background
Lisa I. Iezzoni, MD, MSc, has been named director of the MGH/Partners Mongan Institute for Health Policy (MIHP). Iezzoni has been associate director of the MIHP since 2006 and is a leading authority on risk adjustment for cost and quality measurement as well as health policy and access issues. She has made many contributions to academia, research, and health policy and delivery, including authoring three books and dozens of articles on topics related to assessing severity of illness, measuring complications of inpatient care, and health care disparities affecting persons with disabilities. She has led health policy-related studies for the Agency for Healthcare Research and Quality, the Health Care Financing Administration, and private foundations. She also has served on the editorial boards of 11 medical and health services research journals. Before joining MGH, she spent 16 years as co-director of research in the general medicine division of Beth Israel Deaconess Medical Center (BIDMC), where she had the distinction of being the first woman at BIDMC to be appointed a Harvard Medical School (HMS) professor of Medicine. Iezzoni's contributions to national health policy were recognized by the Institute of Medicine of the National Academy of Sciences in 2000, when she was named a member. Since 2008, she has served on the U.S. Secretary's Advisory Committee on Health Promotion and Disease Prevention Objectives for 2020. In 2010, she received a Distinguished Investigator Award from AcademyHealth. A summa cum laude graduate of Duke University, Iezzoni completed a master's program from Harvard School of Public Health's Health Policy and Management program and received her medical degree from HMS.