Lawrence Casalino M.D., Ph.D.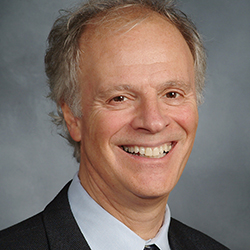 Chief, Division of Outcomes and Effectiveness Research
Livingston Farrand Professor of Public Health
Weill Cornell Medical College
Email: lac2021@med.cornell.edu Discipline: Organizational Theory, Medicine Expertise: Physician Practice Arrangements, Competition / Markets, Managed Care, Organization of Care
Investigator Award
Public Policies, Private Policies, and the Organization of Physician Practice
Award Year: 1999
Most policy efforts are directed toward patients' rights and trying to improve competition among HMOs. While physician practice organization and physician-health plan relationships are beginning to receive more attention, there has not yet been a systematic study of the institutional effects on these fundamental components of medical care. Dr. Casalino develops a conceptual framework to study public policy and public and private purchasing decisions and their effects on physician practice organization and physician-health plan relationships. With concepts adapted from institutional sociology to identify and classify public and private policies, he describes the effects of such decisions in 13 metropolitan areas, the 12 sites of the Community Tracking Study of the Center for Studying Health System Change plus Minneapolis, which has an unusual physician-employer coalition direct contracting model. By identifying the interaction among purchasers and providers, the project's results will provide information about the effects of proposed policy changes on organizations and may help to reduce unintended consequences.
Background
Lawrence Casalino is Chief of the Division of Outcomes and Effectiveness Research and Livingston Farrand Professor of Public Health in the Department of Public Health at Weill Cornell Medical College. His background includes 20 years as a family physician in private practice. He holds a doctoral degree in health services research, with a focus on organizational and institutional sociology and economics. Previously, he was an associate professor with the department of health studies at the University of Chicago. Dr. Casalino's research focuses on the organization of physician practice, and, in particular, the kinds of organized processes physicians use to improve the quality and control the costs of medical care. He is also exploring questions around the forms of relationships that physicians have with hospitals and health plans; the effects on quality and cost of the varying types of physician practice organization; and the influence of public and private policies on the ways that physician practice is organized. Dr. Casalino is currently studying disease management, outpatient medical errors, physician views on quality measurement and pay for performance, and clinical integration in relation to federal anti-trust regulation. He has published in a number of journals, including the New England Journal of Medicine, Journal of the American Medical Association, Health Affairs, Health Services Research, Journal of Health and Social Behavior, and JHPPL.