Joel Teitelbaum J.D., LL.M.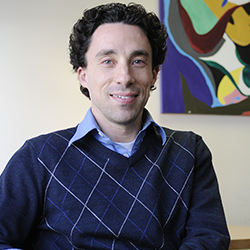 Director of the Hirsh Health Law and Policy Program
Associate Professor
Milken Institute School of Public Health
Email: joelt@gwu.edu Discipline: Law Expertise: Civil Rights, Managed Care
Investigator Award
Civil Rights and the American Health Care System: Conceptualizing a Law and Policy Framework in the New Health Environment for Title VI of the 1964 Civil Rights Act
Award Year: 2000
Despite the high level of attention on health care discrimination during the debate over the Civil Rights Act of 1964, health care as a civil right has received relatively little attention since enactment. By examining the potential for using civil rights law to address disparities in access to care and health outcomes, the investigators will create a new framework for applying Title VI of the Act to today's health care system. The project addresses major policy questions in relation to Title VI enforcement efforts at a time when health care services have been transformed and dominated by integrated delivery systems. Professors Rosenbaum and Teitelbaum will evaluate the need to modernize the legal structure of Title VI to account for delivery system changes. Their work will provide policymakers with a clearer picture of health care discrimination, remedies for discriminatory practices, and legal principles on which the duty not to discriminate should rest.
Background
Joel Teitelbaum, J.D., LL.M., is an associate professor in the Department of Health Policy and Management as well as the director of the Hirsh Health Law and Policy Program at the George Washington University Milken Institute School of Public Health. He is the former vice chair for Academic Affairs in the Department. Professor Teitelbaum also serves as the co-principal investigator of the National Center for Medical-Legal Partnership at GW. He has taught graduate courses on health care law, health care civil rights, public health law, minority health policy, and long-term care law and policy, and an undergraduate survey course on health law. In 2009 he became the first member of the SPHHS faculty to win the University-wide Bender Teaching Award, and he received an SPHHS Excellence in Teaching Award in 2008 for his graduate coursework. He has authored or co-authored many articles, book chapters, policy papers, and reports on civil rights issues in health care, insurance law and policy, health reform and its implementation, and behavioral health care quality, and he is the lead author of Essentials of Health Policy and Law, Second Edition (2012), an introductory textbook, and of Essential Readings in Health Policy and Law (2009), a companion to the textbook. Professor Teitelbaum has directed or managed many health law and policy research projects, including ones sponsored by the Robert Wood Johnson Foundation, the D.C. Department of Health, the Commonwealth Fund, the Henry J. Kaiser Family Foundation?s Commission on Medicaid and the Uninsured, the Center for Health Care Strategies, and the U.S. Substance Abuse and Mental Health Services Administration. In addition, Professor Teitelbaum was co-recipient of The Robert Wood Johnson Foundation Investigator Award in Health Policy Research, which he used to explore the creation of a new framework for applying Title VI of the 1964 Civil Rights Act to the modern health care system. Among other organizations, Professor Teitelbaum is a member of Delta Omega, the national honor society recognizing excellence in the field of public health; the ASPH/Pfizer Public Health Academy of Distinguished Teachers; and the Society for American Law Teachers.