Joan M. Teno M.D., M.S.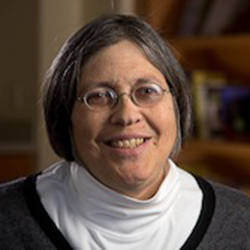 Professor of Medicine, Gerontology and Geriatrics
Cambia Palliative Care Center of Excellence, University of Washington
Email: jteno@medicine.washington.edu Discipline: Health Services Research Expertise: Aging, Quality of Care, Health Services Research
Investigator Award
First the ICU, then Hospice
Award Year: 2013
In 1982, Senator John Heinz introduced an amendment as part of the Tax Equity and Fiscal Responsibility Act that added hospice coverage to Medicare beneficiaries. Innovations in Medicare usually focus on payment, not on creating a new benefit. This amendment defined a new benefit with the goal of being cost neutral or reducing the cost of end of life care. Hospice is now part of mainstream medicine and hospital based palliative care teams are part of 80% of hospitals with more than 300 beds. Yet our study published in the February 8, 2013 issue of JAMA found more ICU care, more repeat hospitalizations in the last 90 days of life, and more patient transfers from acute care hospitals to another health care setting in the last three days of life. An overarching goal of this project is to examine these perplexing findings and to ask fundamental questions from a broad perspective on the role of hospice and palliative care teams in our evolving health care system that is bundling payments in the form of Accountable Care Organizations and other programs. A mixed method approach will be used to triangulate in-depth interviews of multiple stakeholders with secondary analysis of Medicare billing data to understand the past and present, as well as envision a future that promotes patient and family centered medical care. The project also will examine publicly traded, hospice chains' impact on the hospice landscape. Dying is a sentinel event with well-documented high costs and striking geographic variation. This three-year effort will produce several publications with associated opinion pieces that will reflect on hospice and palliative care teams' roles in our evolving health care system.
Background
Joan M. Teno (MD, Hahnemann Medical University, Philadelphia, PA; MS, Brown University) is Professor of Medicine in the Division of Gerontology and Geriatrics at the Cambia Palliative Care Center of Excellence at the University of Washington. Previously she was Professor of Health Services Policy and Practice and Associate Director of the Center for Gerontology and Health Care Research. She is a health services researcher, hospice medical director, and internist certified in Geriatrics and Palliative Medicine. Dr. Teno has served on numerous advisory panels, including IOM, WHO, American Bar Association and NIH study section. As a scientist and clinician, Dr. Teno has devoted her career to measuring and improving the quality of end-of-life care for vulnerable populations, especially those in nursing homes. Dr. Teno is the creator of the Family Evaluation of Hospice Care survey that is now used by 1,700 hospices across the U.S. In conjunction with the National Hospice and Palliative Care Organization (NHPCO), she has created a data repository of nearly 1/2 million surveys starting from 2005 that provides benchmarks and research to improve hospice care. Dr. Teno's current NIH funded research examines the role of the acute care hospital in decisions to insert PEG feeding tubes in nursing home residents with advanced dementia. She is the project leader of a research effort on Shaping Long Term Care in America to examine the variation and consequences of health care transitions. In 2009, she was awarded the NHPCO Distinguished Research Award and named a Pioneer in Palliative Medicine by the Journal of Palliative Medicine.