James M. Perrin M.D.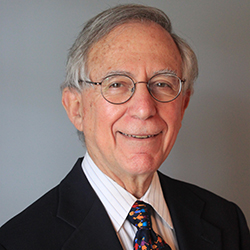 Professor of Pediatrics
Harvard Medical School
Email: jperrin@partners.org Discipline: Medicine Expertise: Child Health
Investigator Award
Changes in Health Status for Children With Chronic Health Conditions: Perspective on the Dynamics of Changing Scientific Knowledge, Services and Policy
Award Year: 1997
The number of children in the U.S. suffering chronic health conditions more than tripled in the past three decades. However, public policies and programs have lagged behind the growth of new knowledge, limiting access to needed services. Focusing on SSI, Medicaid, Maternal and Child Health, and special education, Drs. Perrin and Gortmaker examine the prevalence and program participation of children with chronic health conditions, paying close attention to children living in poverty. Their model uses a society and health approach that recognizes the importance of both socioeconomic environments in the lives of children and scientific advances. The investigators apply a case-based approach to selected chronic conditions in each of five states, studying how health and welfare policies and programs connect with scientific knowledge. Recommendations will be developed to help align policies more closely with knowledge about effective interventions in children with chronic conditions.
Background
James M. Perrin is a professor of pediatrics at Harvard Medical School and the former director of the Division of General Pediatrics and the Center for Child and Adolescent Health Policy at the MassGeneral Hospital for Children, a research and training center with an active fellowship program in general pediatrics. He currently heads the MGH coordinating center for the Autism Treatment Network. He chaired the American Academy of Pediatrics Committee on Children with Disabilities and is past president of the Ambulatory Pediatric Association. For the American Academy of Pediatrics, he also co-chaired a committee to develop practice guidelines for attention deficit hyperactivity disorder. His research has examined asthma, middle ear disease, children's hospitalization, and childhood chronic illness and disabilities, with a recent emphasis on studies of the Supplemental Security Income Program for children and adolescents and primary and subspecialty care for children with chronic illness. Dr. Perrin is the founding editor of Ambulatory Pediatrics, the journal of the Ambulatory Pediatric Association. He served on the Institute of Medicine's Committees on Maternal and Child Health under Health Care Reform, Quality of Long-Term-Care Services in Home and Community-Based Settings, and Enhancing Federal Healthcare Quality Programs; the National Commission on Childhood Disability, and the Disability Policy Panel of the National Academy of Social Insurance (Chair, Children's Committee). He served as a member of the Health Care Technology study section of the Agency for Health Care Policy and Research and of the National Advisory Council for the Agency for Healthcare Research and Quality.