J. Richard Thistlethwaite M.D., Ph.D.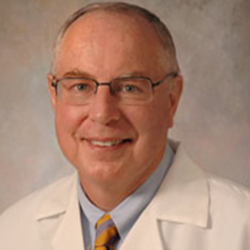 Professor
Surgery, Division of Transplant Surgery
University of Chicago
Email: jthistle@surgery.bsd.uchicago.edu Discipline: Medicine
Investigator Award
A Case-Based Approach to the Ethical and Policy Issues Raised by Living Donor Transplantation
Award Year: 2013
The purpose of the research is to explore the ethical and policy issues raised by transplantation with living donors. While the major ethical and policy issues in living donor transplantation depend, in part, upon the organs and tissues being procured, there are certain cross-cutting themes that relate to any living organ or tissue procurement, including: 1) the moral agency of living donors and their prospective recipients; 2) how much risk living donors should be allowed to take; 3) what informed consent means and requires in the context of living donation; 4) the limits to privacy and confidentiality between living donors and recipients; 5) whether and when members of vulnerable populations can serve as living donors; 6) the moral limits to donor recruitment; 7) whether there should be restrictions on who can receive a live donor organ or tissue; 8) public policy regarding payments to donors, whether for expenses or as incentives; and 9) justice issues and disparities in living donor transplantation. This project will explore these themes using case studies. Our use of case studies is innovative because we seek to bridge the gap between ethical theory and clinical practice to reform living donor transplant policy, an area relatively neglected and lacking much regulatory oversight. The case study format will allow us to engage the myriad of stakeholders involved in living donor transplantation decisions. We will use cases and an analytical framework based on respect for persons in a process of "reflective equilibrium" in which one works back and forth between one's moral intuitions and judgments with the particularities of the case to identify the principles or rules that explain one's judgments, revising the judgments or principles whenever necessary in order to achieve an acceptable coherence among them. This approach uses analytical moral philosophy responsive to the clinical facts and the social and historical context, with the aim of creating a morally sound, clinically useful framework that provides guidance in transplant practice and policy development and refinement. The principal product of the research will be a book analyzing over two dozen cases.
Background
J. Richard Thistlethwaite is a Professor at the University of Chicago in the Transplant Surgery Section of the Department of Surgery, in the MacLean Center for Clinical Medical Ethics and in the Committee on Immunology. He is a practicing transplant surgeon. He received his undergraduate degree from Amherst College. He obtained his medical degree at Duke University as well as his PhD in immunology under D. Bernard Amos, who guided Dr. Thistlethwaite to a career in translational research. Dr. Thistlethwaite completed his surgical residency and a clinical fellowship in transplantation at the Massachusetts General Hospital. He also completed a research fellowship in transplantation immunology at the National Institutes of Health.
Dr. Thistlethwaite's bench research career has centered on immune activation and its control in models of transplantation, which has complemented an active career in abdominal transplantation that has focused on innovative surgical and immunological therapies. His involvement in clinical medical ethics was spawned by collaboration with Mark Siegler, Director of the MacLean Center for Clinical Medical Ethics, in which the ethical underpinnings of living donation for liver transplantation were delineated by per reviewed publication in 1989 prior to the first living donor liver transplant program in the United States being undertaken at the University of Chicago. Dr. Thistlethwaite has authored over 200 peer reviewed medical/research articles, with many focusing on ethical issues in transplantation. Since 1997, this work has been an ongoing collaboration with Lainie Ross, Associate Director of the MacLean Center and Co-director of the University's Institute of Translational Medicine. Recent work has centered on equity, safety and ramifications of public policy decisions in organ donation.
Dr. Thistlethwaite has served on many national and international organizations concerning transplantation. He has been President of the International Pediatric Transplant Association, a Councilor for the United Network of Organ Sharing and for the American Society of Transplant Surgeons, a Director for the Organ Donation and Transplant Alliance and a Governor for the American College of Surgeons.