Hannah Brückner Ph.D.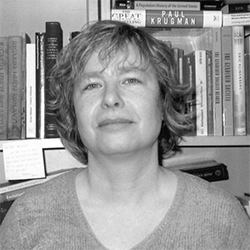 Associate Dean of Social Science
Professor
New York University Abu Dhabi
Email: hb63@nyu.edu Discipline: Sociology Expertise: Adolescent Health
Investigator Award
Healthy Adolescent Relationships: Temporal Dynamics, Normative Scripts and the Transition to Sex
Award Year: 2005
The complicated world of adolescent relationships is such a volatile topic that subjecting it to scientific scrutiny is often an invitation to controversy. But understanding and addressing some of today's most pressing public health and societal concerns, including sexually transmitted diseases and unwanted pregnancies, demands an unflinching look at relationships and sexuality in the often turbulent transition from child to adult. Co-investigators Peter S. Bearman, Ph.D. and Hannah Brückner, Ph.D., calmly, objectively, and thoroughly explore the public health and policy implications of adolescent relationships. Their project, Healthy Adolescent Relationships: Temporal Dynamics, Normative Scripts, and the Transition to Sex, seeks greater insight into how adolescent relationships develop over time and are influenced by peers, family, and communities. This important work will identify the ingredients of a healthy adolescent relationship and guide efforts to help young people negotiate sexuality within romantic relationships.
Background
Hannah Brückner works on a wide range of topics related to the life course, inequality, health, gender and sexuality. She is the author of Gender Inequality in the Life Course and has published numerous chapters and articles about gender inequality in the labor force and in retirement, and the integration of women in academic workplaces. Findings from her research on adolescent health and sexual behavior were featured in news media across the country, including the New York Times and 60 Minutes. Current research projects focus on adolescent romantic relationships and timing and sequencing of family formation and career development. She has a longstanding interest in quantitative methodology and the integration of biological and sociological explanations of social structure and human behavior. She has received an Andrew W. Mellon New Directions Fellowship and research grants from the Robert Wood Johnson Foundation and the Volkswagen Foundation. She is a member of the steering committee of the Women Faculty Forum and Co-Director of the Center for Research on Inequalities and the Life Course.