G. Madison Powers J.D., D. Phil.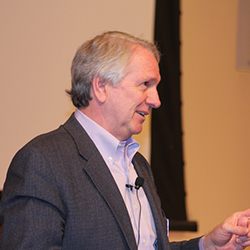 Professor, Department of of Philosophy
Senior Research Scholar
Kennedy Institute of Ethics
Georgetown University
Email: powersm@georgetown.edu Discipline: Philosophy, Law Expertise: Ethical Dilemmas and Allocation of Resources
Investigator Award
Ethics and Allocation: The Foundations of American Health Care Policy
Award Year: 1994
Few authors have looked critically at both the moral foundations and conceptual underpinnings of welfare economics upon which analytic techniques in health care policy are based. This study examines the values and assumptions underlying alternative models of health care allocation cost-benefit, cost-effectiveness, and cost-utility and their application to health care policy. It addresses the implications for social justice associated with these methods and the need for practical guidelines in advance of their widespread utilization. The underlying assumptions of rational decision and social choice theory that connect the two in the context of health policy are also explored. Results reveal the moral tradeoffs entailed in choosing different methods for allocating resources in the context of decisions about eligibility, coverage, and reimbursement. The investigators' work provides greater understanding of these methods so that policymakers can choose among them with greater awareness of the ethical implications of their choices.
Background
Madison Powers is a lawyer with a doctorate in philosophy from University College, Oxford. Research interests include (1) political and legal philosophy, especially issues of distributive justice; and (2) the intersection of law, ethics, and health policy relating to topics including genetics, privacy, and government regulation of health care delivery, medical research, and the protection of public health. Dr. Powers has taught at Vanderbilt University School of Law, Johns Hopkins School of Public Health, and is currently a senior research scholar at the Kennedy Institute of Ethics and professor of philosophy at Georgetown University. He is co-editor, with Ruth Faden and Gail Geller, of AIDS, Women and the Next Generation. Drs. Powers and Faden recently published a book on the ethics of health care allocation policies titled, Social Justice: The Moral Foundations of Public Health and Health Policy. Dr. Powers has published widely on topics in moral philosophy, philosophy of law, and bioethics. In addition, he has served as a consultant or committee member for numerous foundations, research institutions, and government agencies including the Recombinant DNA Advisory Committee, the National Institutes of Health, the National Advisory Committee of the RWJF Investigator Awards program, the Institute of Medicine, the Human Genome Project, the Office of Technology Assessment, the Department of Energy, and President Clinton's Health Care Task Force.