Frank A. Sloan Ph.D.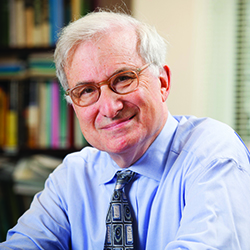 J. Alexander McMahon Professor of Health Policy and Management
Department of Economics
Duke University
Email: fsloan@duke.edu Discipline: Economics Expertise: Health Outcomes, Organization of Care, Physician Practice Arrangements, Consumerism, Health Economics, Malpractice
Investigator Award
Medical Malpractice in Crisis
Award Year: 2003
Why are medical malpractice premiums and losses skyrocketing? This is just one of the questions that Frank A. Sloan, Ph.D. tackles in his Investigator Award project, Medical Malpractice in Crisis. Analyzing the malpractice crises of the 1970s, 1980s, and today, Dr. Sloan examines malpractice outcomes in four distinct markets: legal services, medical malpractice insurance, medical care, and government activity. Using a variety of data sets, he studies trends in malpractice claims and awards, physician relocation to geographic areas where premiums are lower, early retirement of physicians, the effects of state tort reforms on Medicare outcomes and costs, and changes in access to care. In a comprehensive book on the topic, Dr. Sloan will describe reform efforts - including caps, no-fault insurance, enterprise liability, and government reinsurance - and evaluate the advantages and disadvantages of various policy options for addressing the current crisis.
Background
Frank A. Sloan is the J. Alexander McMahon Professor of Health Policy and Management and professor of economics at Duke University since 1993. He is also the director of the Center for Health Policy, Law and Management at Duke that originated in 1998. Professor Sloan did his undergraduate work at Oberlin College and received his Ph.D. in economics from Harvard University. Before joining the faculty at Duke in July 1993, he was a research economist at the Rand Corporation and on the faculties of the University of Florida and Vanderbilt University. He was chair of the department of economics at Vanderbilt from 1986-9. He currently holds a primary faculty appointment in the department of economics with secondary appointments in the Fuqua School of Business and the Terry Sanford Institute of Public Policy. He is a member of the board of the Duke University Health System. His current research interests include alcohol and tobacco use prevention, long-term care, medical malpractice, and cost-effectiveness analyses of medical technologies. Professor Sloan also has a long-standing interest in hospitals, health care financing, and health manpower. He has been a member of the Institute of Medicine of the National Academy of Sciences since 1982 and served as a member of the Physician Payment Review Commission. Until recently, he chaired the Health Services Research Study Section of the Agency for Health Care Policy and Research and an IOM study on financing of vaccines