Debra Umberson Ph.D., M.S.W.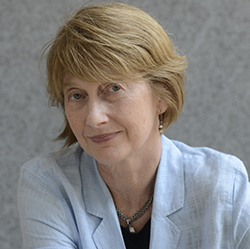 Director of the Population Research Center
Professor
Department of Sociology
University of Texas at Austin
Email: umberson@prc.utexas.edu Discipline: Sociology
Investigator Award
Marriage, Gender and Health in Lesbian, Gay and Heterosexual Couples
Award Year: 2011
Married heterosexuals enjoy greater health and longevity than the unmarried, and the importance of marriage for health increases as people age. However, since same sex couples cannot legally marry in most parts of the United States, we know very little about the health implications of marriage for aging gay and lesbian couples. Dr. Umberson examines how committed relationships affect health-related behavior and health care, and how those processes vary across gay, lesbian, and heterosexual unions. By comparing cohabiting and married couples, Dr. Umberson also explores how legal marriage differs from cohabitation in shaping relationship and health dynamics. This project will inform health policy involving when and how marriage and cohabitation influence health-related behavior, and how partner dynamics around health care at home and in formal health care settings vary for different union types. Policy strategies that result in more health-promoting behavior, more effective partner participation in health care, and more efficient use of health care systems have the potential to reduce health care costs, while improving the health and well-being of individuals and couples.
Background
Debra Umberson is a professor of sociology at the University of Texas at Austin, where she is also the director of the Population Research Center. She received her Ph.D. in sociology from Vanderbilt University and was a post-doctoral fellow at the University of Michigan's Institute for Social Research. Her research focuses on structural determinants of health across the life course with a particular emphasis on the influence of social relationships on health and the blending of quantitative and qualitative methods. Her current research, supported by the Robert Wood Johnson Foundation and the National Institute on Aging, considers how spouses influence each other's health-related behavior, mental health, and health care and how these processes may vary across gay, lesbian, and heterosexual unions. She has been the recipient of a National Research Service Award and a FIRST Award from the National Institute on Aging, and received the 2015 Matilda White Riley Distinguished Scholar Award from the Aging and Life Course Section of the American Sociological Association. She was Chair of the Department of Sociology at the University of Texas from 2000-2006 and Editor of Journal of Health and Social Behavior from 2011-2013.