Deborah A. Stone Ph.D.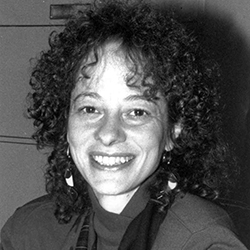 Distinguished Visiting Professor
Heller School for Social Policy and Management
Brandeis University
Email: stone@brandeis.edu Discipline: Political Science Expertise: Organization of Care, Politics and Policymaking
Investigator Award
Care, Work, and Citizenship
Award Year: 1999
The modern welfare state is shifting its emphasis from assuring income security to addressing needs for direct physical and emotional care through a variety of laws, policies, and institutions. Given the widespread need for care and the fragmented nature of previous efforts to understand and respond to it, Dr. Stone redefines care as a political issue and views it as a civic responsibility and act. To explore the place of care in a democratic society, she investigates: 1) the legitimacy of dependence and care in American political culture; 2) the treatment of dependence in the assignment of citizenship rights; 3) how caregiving responsibilities affect political and economic rights; 4) the tensions arising from the incorporation of caregiving work into bureaucratic and professional models of labor management; 5) cooperation and conflict between care users and caregivers; and 6) how rules and resistance to them shape the quality of caregiving and affect care workers' moral attitudes.
Background
Deborah Stone is currently Distinguished Visiting Professor at Heller School for Social Policy and Management at Brandeis University. She will be at Brandeis through the 2018 academic year, returning as a research professor of government at Dartmouth College. She taught politics and public policy for 25 years at Duke University, Massachusetts Institute of Technology and Brandeis University, where she held the Pokross Chair in Law and Social Policy until 1999. Her book, Policy Paradox: The Art of Political Decision Making, won the American Political Science Association's Wildavsky Award for an Enduring Contribution to Policy Studies. Currently in its third edition, it has also been published in Ukranian, Lithuanian, Byelorussian, and Chinese (China and Taiwan editions). She is also the author of The Disabled State (Temple University Press, 1984) and The Limits of Professional Power: National Health Care in West Germany (University of Chicago Press, 1980). In addition to numerous scholarly articles in health and social policy, she writes for American Prospect, Nation, New Republic, and Boston Review. As a health policy specialist, Stone served on advisory commissions for the Social Security Administration, the Human Genome Commission, and the Institute of Medicine. She has held fellowships from the Guggenheim Foundation, Harvard Law School, Harvard University Program on Ethics and the Professions, the Open Society Institute, and the Robert Wood Johnson Foundation. Her current research focuses on the place of altruism in public life, and on public policy towards caregiving.