David Mechanic Ph.D.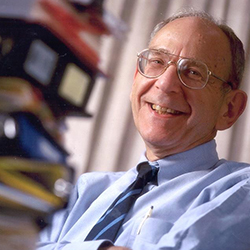 René Dubos University Professor of Behavioral Sciences
Rutgers University
Email: mechanic@rci.rutgers.edu Discipline: Sociology Expertise: Ethical Dilemmas and Allocation of Resources, Managed Care, Mental Health, Organization of Care
Investigator Award
Economic Constraints, Trust and Evolving Patient-Provider Relationships
Award Year: 1994
The public's trust in physicians is an essential aspect of health care delivery. As tensions grow between new medical possibilities and expenditure limits, innovative mechanisms are needed to settle disputes if litigation and other costly transactions are to be minimized. Dr. Mechanic uses trust as a conceptual frame to understand better evolving structures, possible mediating institutions, and the social and ethical implications of varying models of doctor-patient relationships. He examines strategies for rationing health care resources, achieving integration between acute and chronic disease models, and enhancing the compatibility of efforts to improve physical and behavioral health. The project synthesizes work on trust relations in medicine, building on theory and empirical research from several disciplines. Dr. Mechanic uses interviews and analysis of provider survey data to help extend the picture of how new practice arrangements affect trust. He also looks at how the English National Health Service makes and seeks to legitimize rationing decisions. Results shed light on the forces influencing medical care and suggest alternative approaches to inevitable dilemmas.
Background
David Mechanic is the René Dubos University Professor of Behavioral Sciences and Director of the Institute for Health, Health Care Policy, and Aging Research at Rutgers, the State University of New Jersey. His research and writing deal with social aspects of health and health care. David Mechanic received his Ph.D. from Stanford and joined the University of Wisconsin faculty in 1960, where he was chair of the department of sociology (1968-1970), the John Bascom Professor of Sociology (1973-1979) and director of the Center for Medical Sociology and Health Services Research (1972-1979). He moved to Rutgers University in 1979, was dean of the Faculty of Arts and Sciences (1980-1984), directed the NIMH Center at Rutgers for Research on the Organization and Financing of Care for the Severely Mentally Ill (1988-2004) and established the Rutgers Institute for Health, Health Care Policy, and Aging Research (1985) which he directs. He served as the Director of the Robert Wood Johnson Foundation Investigator Awards in Health Policy Research program (2000-2012). Dr. Mechanic is a member of the National Academy of Sciences, the American Academy of Arts and Sciences, and the Institute of Medicine. He has served on numerous panels of the National Academy of Sciences, federal agencies and non-profit organizations. David Mechanic has received many awards including the Institute of Medicine's 2009 Rhoda and Bernard Sarnat International Prize in Mental Health and 2008 Adam Yarmolinsky Award, the Health Services Research Prize from the Association of University Programs in Health Administration and the Baxter Allegiance Foundation, the Distinguished Investigator Award from the Association for Health Services Research, the Rema Lapouse Award and the First Carl Taube Award for Distinguished Contributions to Mental Health Services Research from the American Public Health Association, and the Distinguished Career Award for the Practice of Sociology, Distinguished Medical Sociologist Award and Lifetime Contributions Award in Mental Health from the American Sociological Association. He also received the Benjamin Rush Award (and Lecture) from the American Psychiatric Association (2004) and was selected for the Inaugural Lecture and Award in the Behavioral and Social Sciences honoring Matilda White Riley at the NIH (2006). He has been a Guggenheim Fellow and fellow at the Center for Advanced Study in the Behavioral Sciences at Stanford. He has written or edited 30 books and approximately 400 research articles, chapters and other publications in medical sociology, health policy, health services research, and the social and behavioral sciences. Among his books are Mental Health and Social Policy: Beyond Managed Care (5th Edition, 2008); The Truth About Health Care: Why Reform Is Not Working In America (2006); Policy Challenges in Modern Health Care (2005); Inescapable Decisions: The Imperatives of Health Reform (1994); Painful Choices: Research and Essays on Heath Care (1989); From Advocacy to Allocation: The Evolving American Health Care System (1986); and Future Issues in Health Care: Social Policy and the Rationing of Medical Services (1979).