Alan M. Garber M.D., Ph.D.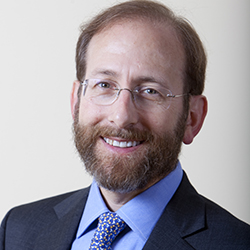 Provost
Mallinckrodt Professor of Health Care Policy
Harvard University
Email: alan_garber@harvard.edu Discipline: Medicine, Economics Expertise: Organization of Care, Technology, Health Economics
Investigator Award
Care With Constraints: The Efficient Production of Health
Award Year: 2003
Although Americans spend much more per capita on health care than do citizens of other wealthy nations, they do not appear to be healthier. Physician and economist Alan M. Garber, M.D., Ph.D. addresses the issue of productivity in health care delivery in his project, Care with Constraints: The Efficient Production of Health. Building on his past work and the work of others, Dr. Garber takes a fresh look at how productivity is defined and measured; how it is influenced by health care delivery and financing structures, regulatory mechanisms, politics and technological innovation; and how it varies across nations and for the treatment of specific diseases. By better understanding barriers to productivity, Dr. Garber expects to shed light on how health care resources can be used more effectively. His work should reveal how other considerations, such as special interests, influence policymakers to take actions that run counter to the goal of increasing productivity.
Background
Alan M. Garber, MD, PhD became Provost of Harvard University in September 2011. He is also the Mallinckrodt Professor of Health Care Policy at Harvard Medical School, an economics professor in the Faculty of Arts and Sciences and a public policy professor in the Kennedy School of Government. Dr. Garber graduated summa cum laude from Harvard College in 1976, and went on to earn AM and PhD degrees in Economics from Harvard University. He earned his MD with research honors from Stanford University in 1983, and completed his internship and residency in internal medicine at Brigham and Women's Hospital in Boston. Before becoming the Provost at Harvard University, Dr. Garber was the Henry J. Kaiser Jr. Professor and a Professor of Medicine, as well as a Professor of Economics, Health Research and Policy, and Economics in the Graduate School of Business (by courtesy) at Stanford University. He also served as Director of the Center for Health Policy and the Center for Primary Care and Outcomes Research at Stanford, and as a Staff Physician at the Veterans Affairs Palo Alto Health Care System. Dr. Garber is a member of the American Society for Clinical Investigation, the Association of American Physicians, the Institute of Medicine of the National Academy of Sciences, and the Board on Science, Technology, and Economic Policy at the National Academies. He is a Fellow of the American College of Physicians and the Royal College of Physicians. He is also a Research Associate with the National Bureau of Economic Research and served as founding Director of its Health Care Program for nineteen years. He has also served as a member of the National Advisory Council on Aging at the National Institutes of Health; as a member of the Board of Health Advisers of the Congressional Budget Office; and as Chair of the Medicare Evidence Development and Coverage Advisory Committee at the Centers for Medicare and Medicaid Services. Dr. Garber?s research is directed toward methods for improving health care delivery and financing, particularly for the elderly, in settings of limited resources. His work addresses such issues as technology evaluation, comparative effectiveness, the causes of health expenditure growth, and health care productivity